Posted on 26. Mar, 2018 by Stephen in Uncategorized
This was a lovely job. I stripped out the horrible uPVC door and frame and replaced it with a primed Accoya door and frame.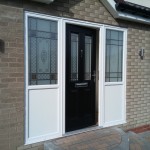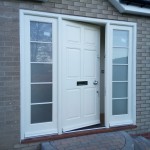 Much better I think. The wider door and full height glass side panels make it a great looking entrance.
Accoya door and frame comes with a manufacturers 50 year guarantee and will not warp, twist or expand.
Also the person who did the block paving step did a great job, just look at those cuts.