Posted on 21. Dec, 2018 by Stephen in Uncategorized
This past few days it's all been angles and curves. From a five sided window seat, fitting dado rail to a three story hallway and an arched top gate.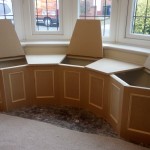 The window seat was made from MDF with a panelled detail and lift up lids for storage. My customer is making a cushion for the top which will finish it off nicely.
45m of dado rail was fitted to a house in Gosforth from the hallway all the way up to the attic landing. Lots of angles, mitres and scribes to cut. Keeping me fit with running up and down the stairs all day.
The arched gate was made from Accoya and fitted in Whitley Bay. After taking a template of the arch the gate and frame were made made and were a snug fit. Accoya comes with a 50 year guarantee against swelling, twisting and rot so will outlast me.